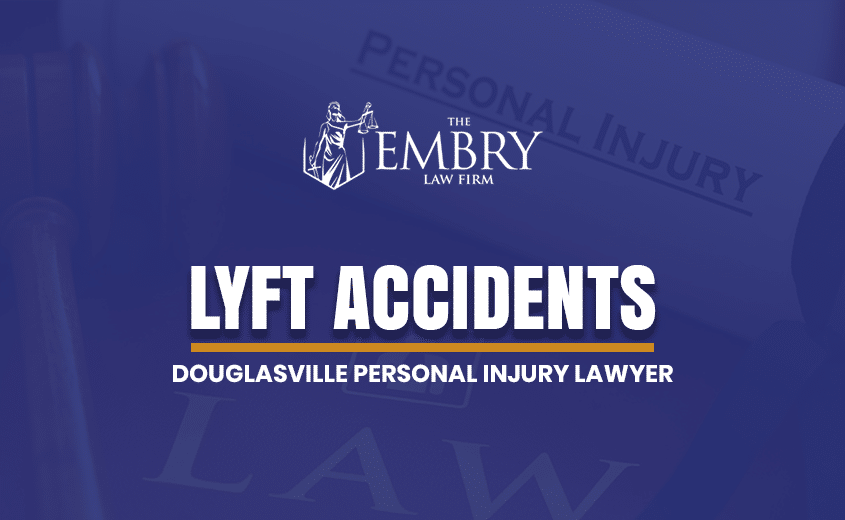 Douglasville Lyft Accident Lawyer
Ridesharing companies like Lyft and Uber have revolutionized the way many Americans commute. Metro Atlanta is no exception. Atlanta is one of over 200 cities that have embraced Lyft. Throughout the Metro area, you can use your mobile device to schedule a ride.
Mobile apps managing these ridesharing services promise all the conveniences that technology has to offer. Unfortunately, even the best technology cannot yet prevent mishaps from occurring. When mishaps occur, the process of understanding your legal rights and options can be complicated.
If you have been injured while using a Lyft service, contact the Douglasville Lyft accident lawyer at The Embry Law Firm. Accidents involving companies like Lyft and Uber can be complicated to resolve, and you need the legal guidance of someone who knows how to overcome obstacles in these types of cases.
Lyft Accident Information
Lyft is a newer ridesharing service, having been started in 2015. That means that the laws and regulations related to Lyft and any auto accidents that involve their drivers or vehicles are also fairly new. This can complicate how those injured in a Lyft accident resolve their case.
Whether you are considering using Lyft as a passenger, or are concerned about how these services impact other drivers, here is some information about Lyft drivers and accidents that you need to know.
Requirements for Lyft Drivers: In order to work for Lyft, drivers must be 21 or older, have a valid driver's license, and own an iPhone or Android device. Lyft claims that they conduct DMV and criminal history checks on drivers before allowing them to operate. This process has been disputed after accidents and incidents.
Requirements for Lyft Vehicles: According to Lyft, all vehicles must go through a 19-point inspection prior to being used for service. Vehicles are required to have five working seat belts and all external door handles must be properly in place.
Insurance Requirements: Lyft requires drivers to be listed as a covered party on their (the driver's) auto insurance policy. Lyft's liability insurance operates on an unusual schedule, with coverage beginning when a driver accepts a ride, and ending when the ride is complete. The driver's insurance should cover property damage to the vehicle, while Lyft's $1 million policy should cover other expenses.
Insurance Lapses: There is a gray area of insurance that anyone scheduling a Lyft ride should be aware of. Lyft's insurance policy does not cover accidents occurring while the driver is waiting, or is in "driver mode" but does not have a request. If the driver is involved in an accident during these periods, then his or her own insurance policy will be the only one applicable.
Insurance Coverage: Another important thing to note about Lyft insurance is the fact that some insurance carriers, and some states in general, have stated that they may not cover rideshare passengers in the event of an accident.
For several years, the requirements for Lyft drivers and vehicles, and who is responsible for their behavior and accidents has been called into question. Whether an accident occurred, or you were injured in some other way while using Lyft, it is important to contact a Lyft accident lawyer to discuss your case.
Liability is a Major Factor in Lyft Accidents
With most auto accidents, the heart of the matter is determining who is liable. Unlike most auto accidents, however, Lyft accidents involve more than just routine commuters. When accidents occur, the question is "who is responsible?" Is the Lyft driver responsible? What about Lyft as a company or employer? Here is where liability becomes a complicated factor in accident cases.
Rideshare companies, including Lyft, have stated repeatedly that drivers are not employees, but rather act as independent contractors. To that end, Lyft may deny responsibility for accidents caused by Lyft drivers. Independent contractors are solely responsible for accidents that they cause.
But why would Lyft have insurance coverage for accidents if it accepts no responsibility for them? Remember that Lyft's insurance policy is only active during an active ride as scheduled on the mobile app. So if you were a passenger on a Lyft ride and an accident occurred, Lyft's insurance policy should cover your injuries. However, if you were in another vehicle and were struck by a Lyft driver who did not have an active ride, then his or her insurance coverage would be the only policy available to cover your injuries.
Georgia is one of few states that require ridesharing companies to have active insurance on drivers who have accepted a ride and are traveling to pick up the passenger. In this instance, Lyft's insurance policy would cover you if the Lyft driver caused an accident.
Why You Need a Douglasville Lyft Accident Lawyer
As you can see, Lyft accidents are complicated for several reasons. Multiple insurance policies and potentially more than one liable party make claims complicated. If a Lyft driver does not meet the requirements, or background checks have not been properly completed then cases become even more difficult to sort through.
At The Embry Law Firm, our personal injury lawyer can help you sort through your case. We will take your accident claim one step at a time to ensure that you are compensated for your injuries and losses. Whether the driver, Lyft, or someone else was responsible for your injuries, we will find the best outcome possible for your case. Schedule a free consultation with our Lyft accident lawyer by calling 844-443-6279.