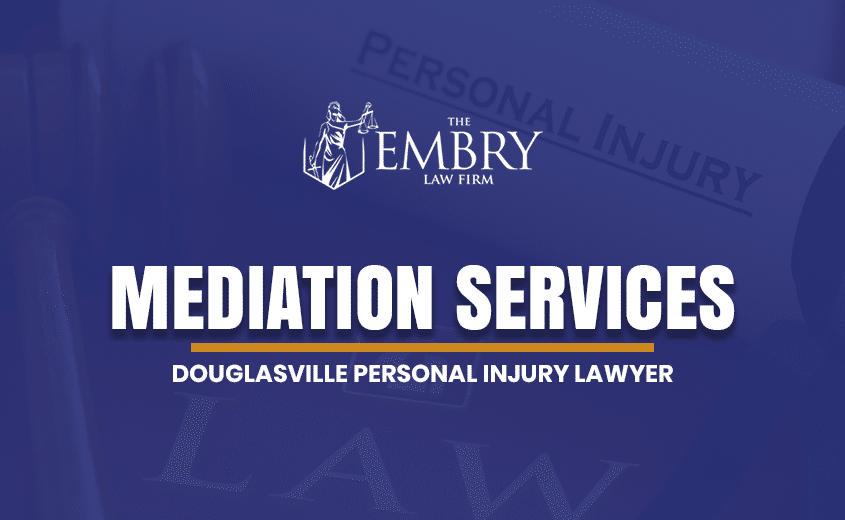 Douglasville Mediation Services
If you have found yourself in the midst of a dispute, you may turn to the legal system for resolution. Maybe you and your soon-to-be ex-spouse need to reach a decision about child custody or support. Or perhaps you have entered into a contract that requires any disputes be solved through alternative dispute resolution (ADR). Or maybe you and a business partner don't agree on how to manage certain aspects of your venture.
In any case like those described, ADR is a great way to resolve legal matters without the drama, time, and expense that a trial may involve. One of the most popular ADR strategies is mediation. Unlike arbitration, mediation allows those involved in the dispute to maintain more control over the process while setting goals for resolution.
If you are in need of dispute resolution, contact The Embry Law Firm for guidance. We can help you quickly and amicably resolve a dispute in a way that both parties can agree on. Our mediation services lawyer has experience resolving conflicts in a way that promotes healthy and amicable resolution. No matter what sort of dispute you are involved in, we can help!
What is Mediation?
Mediation is a form of ADR that involves a neutral third party acting as a medium between the two parties involved in the dispute. The mediator does not make decisions, and is not a judge or arbitrator. Sometimes mediators have legal degrees, and other times they are trained independent of a formal legal education. He or she is simply a neutral party that helps facilitate resolution. Many people liken a mediator to a psychologist - or someone who can listen to both sides and provide guidance and advice.
Mediation may be voluntary, may be designated in a contract, or may be ordered by a court. Mediation is a great option for people who want to resolve their dispute in a more private and less hostile environment. The advantages of mediation include:
Privacy
Less expensive than a trial
Generally resolution occurs more quickly
Parties retain control over the process
Parties communicate directly, which avoids hearsay and misunderstandings
During mediation, each party has the opportunity to express their side of the dispute. Parties may do this with or without an attorney present. Once each party has stated their case, the mediator can help review, solve problems, and negotiate a resolution that both parties can agree to.
Once a resolution agreement is reached, a mediation agreement will be drafted and signed. Most jurisdictions consider mediation agreements as legally binding and enforceable. If the mediation was court-ordered, then the court may consider the agreement a judgment.
If mediation does not successfully resolve the dispute, then the parties involved have the option of pursuing other avenues of resolution. Some people may find arbitration to be a more suitable option, while others may choose to take the case to trial.
Legal Matters that May Benefit from Mediation
The purpose of mediation is to provide people involved in a dispute with a more balanced way of resolving their conflict. There are many legal situations that can be successfully resolved through mediation. Some of the best examples include:
Family Law - Divorce, child support, child custody, alimony, division of property.
Business Law - Contract disputes, partnerships, labor unions, management.
Landlord - Tenant disputes.
Disagreements that do not warrant a trial - Smaller cases involving parties who know each other.
Disputes arising between parties who want to stay on good terms professionally or personally, but who have found themselves in a dispute.
These are only a few examples of the type of legal cases that may be resolved through mediation. The best way to determine what your legal options are is to contact our Douglasville mediation services lawyer.
Get Help Resolving a Dispute
If you have found yourself involved in a dispute and you need help resolving it, contact The Embry Law Firm today. Our Douglasville mediation services lawyer can help you explore your legal rights and find the dispute resolution options that work best for your situation. No two legal cases are the same, and you deserve resolution options tailored to your situation and overall goals.
At The Embry Law Firm, our goal is to provide mediation services in a private, safe, and comfortable environment. As a neutral party, we have the knowledge our clients need to resolve their dispute in a way that is legally sound and works for everyone involved. We also offer a friendly and compassionate environment that lets our clients know that we care.
If you are interested in learning more about our mediation services, contact The Embry Law Firm by calling 844-443-6279. We offer free consultations to every client, and can help you find the legal resolution you need.