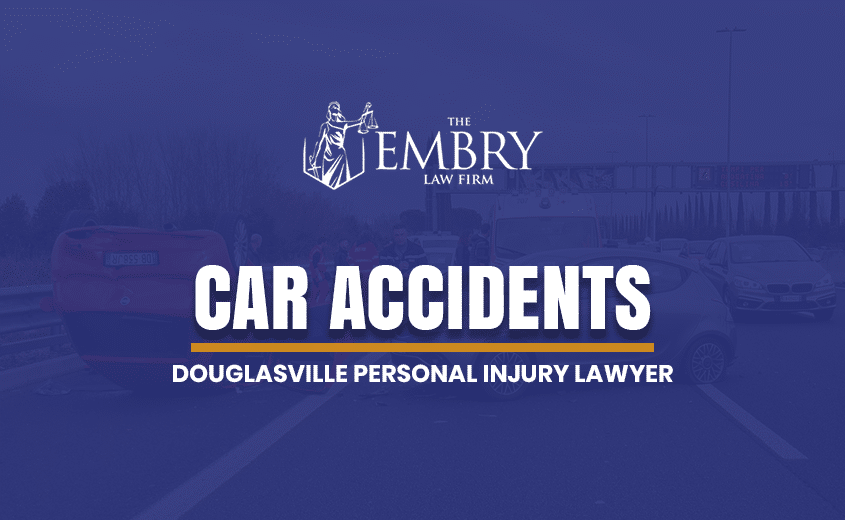 Douglasville Car Accident Lawyer
If you live anywhere in Metro Atlanta, there is no doubt you have seen a consistent flow of news reports related to car accidents. In 2015, there were more than 385,000 car accidents on Georgia roadways. These accidents caused over 19,000 serious injuries, and claimed the lives of more than 1,400 people. The Georgia Governor's Office of Highway Safety has predicted that these statistics will increase for 2018.
Car accidents often feel like a mere statistic until it happens to you or someone you love. In an instant, the reckless acts of someone else can change your life forever. When drivers make the choice to drive over the speed limit, respond to a text message, or get behind the wheel after consuming alcohol or drugs, they are risking the lives of those in their vehicle, and everyone else on the road.
At The Embry Law Firm, we understand that a car accident can seem like a tremendous hurdle to overcome. Our goal is to help car accident victims understand their legal rights and pursue the compensation and justice they deserve.
Douglasville Car Accidents
Douglas County is home to many major highways, including Interstate 20, Highway 5, and Highway 78. These roads are heavily traveled, and accidents occur frequently here. The Embry Law Firm represents clients involved in accidents on these and many other roadways in Metro Atlanta. We help clients all over the area, including those injured in the following:
Head-on collisions
Rear-end accidents
Multiple vehicle accidents
Commercial vehicle accidents
Motorcycle accidents
Pedestrian accidents
Drunk driving accidents (DUI)
Texting while driving accidents
Uninsured/underinsured motorist accidents
No matter what type of car accident you are in, our Douglasville car accident lawyer can help you sort through the debris and find the options that are best for you and your family.
What to Do if You Have Been Injured in a Car Accident
When a car accident happens, it is totally normal to feel a flood of emotions and adrenaline. It is important to stay calm and focus on what really matters, which is your safety first and foremost. Call 911 as soon as an accident happens so you can be sure that police and emergency medical care are on the way.
It is a good idea to have a police report completed, and to secure the contact information of other drivers involved. When completing a report, stick to the facts. Avoid taking responsibility or admitting guilt. Do not over-share information with the other parties involved. Keep things simple and to the point.
If you are injured in a car accident, it is important to get medical attention as soon as possible. Even injuries that may initially seem minor can have a lasting impact on your health. There are many car accident injuries that do not display symptoms right away. Sometimes it can take hours or even days for injuries to present symptoms, but that does not mean you are not injured. Getting an accurate diagnosis and treatment is important for your health, but also for any claims resulting from your car accident.
Understanding Your Car Accident Case
Even car accidents that seem simple or uncomplicated can quickly spiral into a nightmare when the parties involved disagree about how the accident occurred, or what insurance should pay. At The Embry Law Firm, our personal injury team can do much more than help you understand your legal rights – we can help you protect them. Our attorneys can help you navigate the insurance claims process, including communicating with insurance companies on your behalf. We can also help you determine if your case warrants filing a personal injury or wrongful death claim.
In Georgia, drivers who are found to be at fault in a car accident are liable for physical injuries and property damage. Unfortunately, the process of proving fault and getting compensation is not always easy. Sometimes, insurance claims do not provide adequate compensation, or the person deemed at fault may not have had insurance that meets the legal requirements. There are also some cases where fault is disputed. In such cases, your best option is working with a skilled car accident lawyer who can help you determine fault or negligence, and explore your options. Many complicated car accident cases can be resolved outside of court, such as through mediation. Many others require a more formal legal process and go to trial before a judge and jury. In either case, The Embry Law Firm can help you move through the legal process with confidence that your case is in good hands.
Contact Our Douglasville Car Accident Lawyer
There is no question that car accidents are traumatic and upsetting. No matter what type, or how severe, car accidents have a tremendous impact on you and your family. Fortunately, you are not alone as you sort through the aftermath. You can rely on the team at The Embry Law Firm to conduct a thorough investigation into your case, and provide you with options that will maximize your recovery and get the justice you deserve. To find out more about what our
Douglasville personal injury lawyer
can do for you, call our office at 844-443-6279. You can also fill out our
online form
and leave us your contact information.