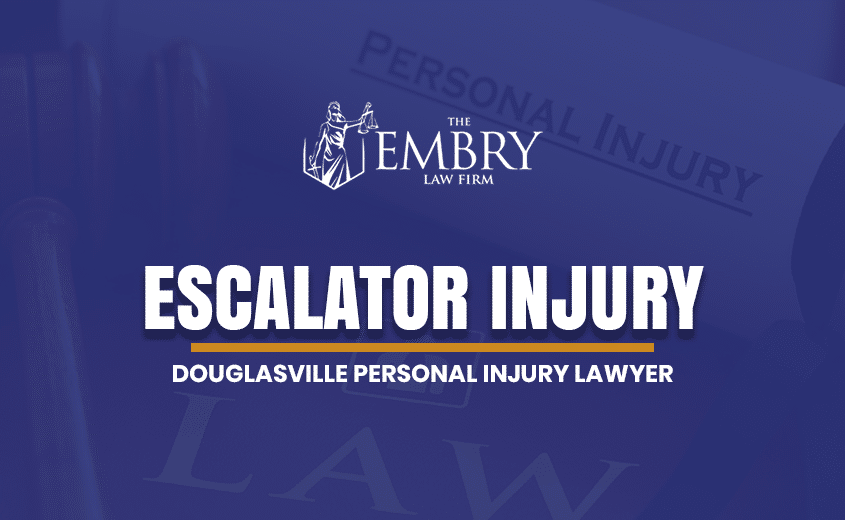 Douglasville Escalator Injury Lawyer
Escalators sometimes make people nervous, but most of us don't think twice about using them. These motorized staircases are a popular way to get between floors at shopping malls, office buildings, airports, and other buildings. Being so popular and in public locations, it is only natural that we use escalators with the belief that they are safe and secure. But is that really the case?
At The Embry Law Firm, we know that sometimes, things are not as safe as they seem. This can be especially true when it comes to machines and equipment, including escalators. Escalator accidents that cause injuries may be covered under Georgia's premises liability laws. This may be the case if the cause of your accident was due to improper maintenance, defective equipment, or other safety problems.
If you or someone you love has been injured in an escalator accident, you may find it helpful to contact the Douglasville escalator injury lawyer at The Embry Law Firm to learn more about your legal rights.
How Common are Escalator Accidents?
According to the National Institute of Health (NIH), escalator accidents cause around 10,000 injuries every year. These injuries are serious enough to warrant a trip to the emergency room. The Consumer Product Safety Commission (CPSC) further reported that between 1992 and 2003, there were 24 escalator-related deaths in the U.S. These injuries were not related to work accidents. There may be thousands of other injuries that are not reported, or are not serious enough to warrant a trip to the hospital.
What are the Most Common Escalator Injuries?
Escalators are subject to safety codes and state regulations. They must be properly installed, undergo routine inspections, and be properly maintained. When a property owner fails to comply with these regulations, escalators can quickly become dangerous for passengers. The most common causes of escalator injuries include:
Falls – which account for 75 percent of all escalator injuries
Slipping on a slick step if something has been spilled
Tripping on the lip of the steps, or the lip at the entry or exit
Malfunctions causing jolting, jarring, or skipping
Escalator collapse
Entrapment – when clothing or a body part becomes trapped in the mechanical elements of the escalator
Lack of warning visitors of dangerous, defective, or malfunctioning equipment
Because escalators have many moving parts and the steps and teeth are made of metal, the injuries sustained in an accident can be catastrophic. Some examples of the types of injuries that may occur include:
Scrapes or loss of skin
Cuts
Fractured or broken bones
Head injuries
Spine and neck injuries
Many escalator injuries result in permanent scarring, and some result in long-term or even permanent disability. As noted previously, around two escalator accidents each year result in death.
Who is Liable for Escalator Accidents and Injuries?
Georgia law allows victims of an escalator accident to collect compensation through a lawsuit if they can prove that someone else was at fault for the accident. If you have been injured while riding an escalator, it will be important to determine who was at fault, and to what degree. To do this, The Embry Law Firm will explore factors like:
Was the escalator properly serviced, inspected, and maintained?
Was the escalator being repaired at the time the injury occurred?
If repairs were underway, was proper signage placed to keep visitors from using it?
Has the escalator malfunctioned or caused accidents in the past?
Was the escalator the subject of any violations of safety or building codes?
Was the owner or operator aware of problems or dangers?
Could the accident have been prevented?
If it is determined that someone else was at fault for the escalator accident and resulting injuries, then you may be entitled to compensation through a premises liability claim. A premises liability claim could provide compensation for:
Medical expenses
Lost income
Pain and suffering
Wrongful death
Funeral expenses
The type of damages you can pursue will depend on the details of your case.
Learn More about Your Legal Rights
While there are cases of escalator accidents being caused by the victim's own behavior, the majority are caused by factors related to the design and workings of the machinery. Anyone who is injured while using an escalator should contact an attorney to learn more about Georgia's premises liability laws and their options to obtain compensation.
At The Embry Law Firm, we represent clients in all sorts of accident cases, including premises liability. Our Douglasville personal injury lawyer understands the unique nature of these claims and has the resources you need to protect your legal rights. To learn more, or to schedule a free consultation, contact The Embry Law Firm by calling 844-443-6279. You can also send us an email through our website.