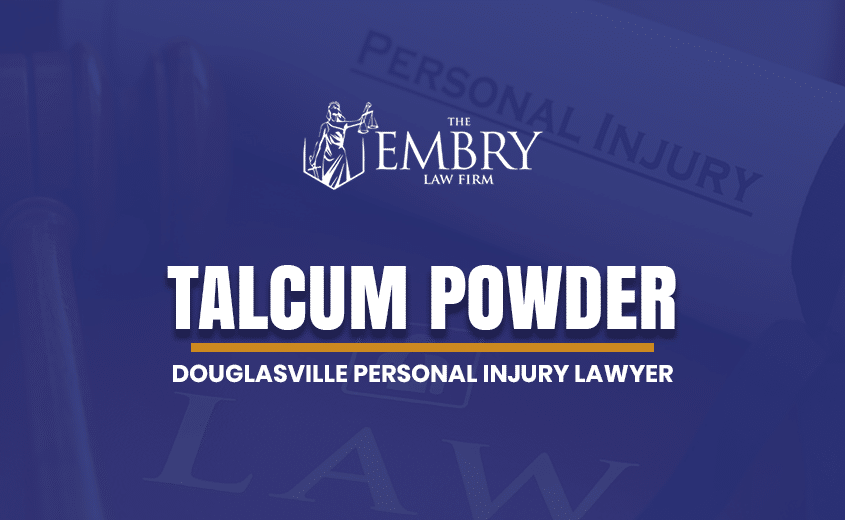 Douglasville Talcum Powder Lawyer
Talcum powder is a common household item. It is found in many cosmetics, baby powder, and healthcare powders. In recent years, numerous consumers have filed complaints of illness or adverse side effects after using common talcum powder products. The reason for these complaints is due to possible asbestos contamination. If you or someone you love has experienced adverse side effects after using a talcum powder product, it is important to explore your legal rights. Manufacturers are required to ensure that their products do not contain dangerous materials. Let The Embry Law Firm help you protect your rights and hold manufacturers accountable for negligence.
What is Talc and Talcum Powder?
Talc occurs naturally, and is mined before being purified and crushed into what we know as talcum powder. Talc is a mineral comprised of silicon, oxygen, silicon, and magnesium. What is not commonly known is that talc may also contain asbestos. Like talc, asbestos is a naturally occurring mineral that is commonly found in silicates. Unlike talc, asbestos is considered a carcinogen and has been banned by the U.S. federal government since the 1970's. Now, manufacturers of talc products must ensure that asbestos is not present in their products. Manufacturers like Johnson & Johnson must abide by strict regulations by the U.S. Food and Drug Administration (FDA). If talcum powder products containing asbestos reach consumers, the results could be dangerous, or even deadly. Some of the consumer products that commonly contain talcum powder include:
Baby Powder
Makeup/Cosmetics
Contraceptives
Deodorant
Soap
Antacids
Chalk and Crayons
Surgical Gloves
Textiles
These are just some of the products that consumers purchase every day that may contain talc.
What are the Dangers of Talcum Powder Products?
Talcum powder has been used in consumer products since the early 1900's. By the 1960's and 1970's, many reports of adverse side effects had already been filed. While the FDA banned use of asbestos in talc products, the dangerous mineral continued to be used in homes and in many products. Asbestos has not been used in consumer products for many years, but the potential dangers associated with talcum powder still exist. Since the 1970's, talcum powder products have been considered safe and effective at absorbing moisture and preventing chafing. Unfortunately, many consumers have suffered adverse side effects from using talc products, including:
Difficulty Eating
Abdominal or Pelvic Pain
Urinary Issues
Vaginal Bleeding or Discharge
Bloating
While these side effects are certainly concerning, talcum powder products are also allegedly a cause of acute or chronic lung irritation and ovarian cancer. In recent years, a number of lawsuits have been filed against manufacturers like Johnson & Johnson alleging that the use of talcum powder products have led to consumers developing ovarian cancer. These lawsuits allege that women who used talcum powder on their genital areas for long periods of time were more likely to develop ovarian cancer. A number of studies have explored the idea, including control studies and studies done on laboratory animals. Closed control studies have shown a link between talcum powder use and an increased incidence rate of ovarian cancer among women studied.
Talcum Powder Product Lawsuits
Product Manufacturers are required by law to follow regulations when manufacturing and distributing products. They are also required to test their products for safety, and warn consumers of any potential risks. Many of the lawsuits filed against Johnson & Johnson related to talcum powder products revolved around the fact that the company had not adequately warned consumers about any risk of using their products. One lawsuit found that Johnson & Johnson was guilty of concealing information, including the potential link between talcum powder and ovarian cancer. Another lawsuit included information detailing internal conversations among Johnson & Johnson staff related to whether the company should alert consumers to the known risks. Both of these lawsuits resulted in verdicts on behalf of the plaintiffs (consumer victims), with Johnson & Johnson being held liable for failing to warn consumers about possible adverse side effects.
Do I Have a Talcum Powder Claim?
If you have been diagnosed with a chronic or acute lung condition or ovarian cancer, and you have used talcum powder products consistently for many years, contact The Embry Law Firm to find out if you may have a talcum powder claim. In order to determine whether you have a claim, we need to conduct a thorough investigation into your case. That includes addressing the following questions:
Does the injury or illness you suffered correspond to your use of talcum powder?
How long have you used the talcum powder? The adverse side effects of talcum powder and contaminated talc can take 10-50 years to fully develop.
Do medical records indicate that talcum powder could be the cause of the illness or injury?
Could other factors have caused the illness or injury?
Has the injury resulted in economic or non-economic losses?
After answering these questions, if we determine that you do have a claim, we will work with you to find the best avenue possible for your case. Depending on your situation, we may attempt to negotiate a settlement, take the matter to trial, or explore options like a class action lawsuit. The best way to find out what options you may have is to contact our
Douglasville personal injury lawyer
at The Embry Law Firm. Our team can help you understand your legal rights and get the justice and compensation you deserve.