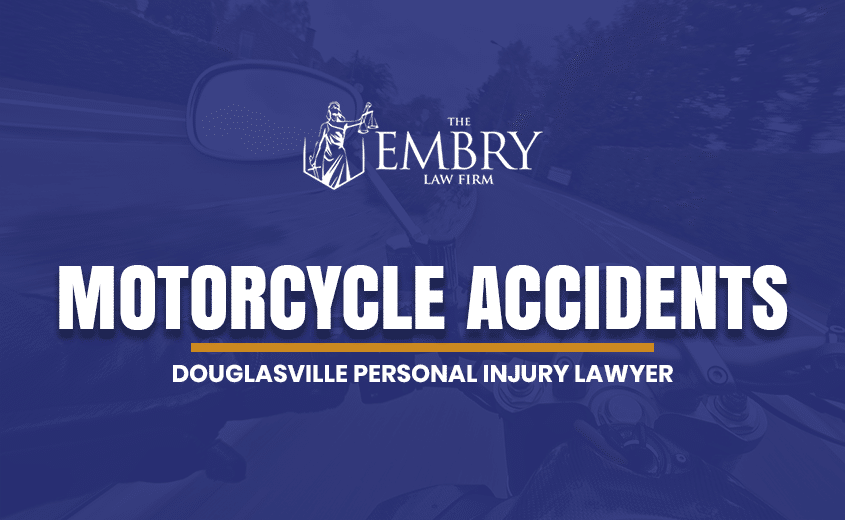 Douglasville Motorcycle Accident Lawyer
Motorcycles are a popular mode of transportation for several primary reasons. First, they are less expensive than cars. Next, they are fuel-efficient and many people consider them more environmentally friendly. Motorcycles are also a great deal of fun, and there is nothing quite like the feeling of the open road.
Unfortunately, motorcycles have a down side, which is the inherent danger of being so unprotected on the road. Unlike other vehicles, motorcycles are not equipped with many safety features, and their design alone leaves riders vulnerable to accidents and road hazards. The small size of motorcycles can also make them less visible, especially in "blind spots".
While there are some inherent dangers to riding a motorcycle, most motorcycle accidents are caused by collisions with other vehicles. Many accidents are caused by negligent drivers who are not paying attention, or who are not upholding their responsibility to watch out for all other drivers on the road.
If you have been injured in a motorcycle accident caused by someone else, contact The Embry Law Firm to explore your legal rights. If another driver's negligence caused your injuries, you may be entitled to compensation.
Common Causes of Motorcycle Accidents
Auto accidents happen for various reasons. Some accidents are the result of unforeseeable and unavoidable hazards or roadway conditions. The fact remains, however, that the majority of auto accidents are caused by preventable factors. In fact, some estimates suggest that as many as 75 percent of motorcycle accidents are collisions with cars, and the driver of the car was found to be at fault.
The most common causes of motorcycle accidents in particular include:
Distracted driving
Driving under the influence of alcohol or drugs
Drivers failing to pay attention to motorcycles
Vehicles with faulty mirrors, lights, or brakes
Unexpected pedestrians in or near the road
Road hazards
These are just some examples of factors that can cause motorcycle accidents.
Motorcycle Accident Injuries
Because motorcycle riders are more exposed to the dangers of the road, the injuries they sustain are often catastrophic. The most common injuries suffered by motorcycle riders include:
Head injuries: Even in a helmet, your skull and brain are vulnerable to injury.
Road rash: Sliding across pavement or other surfaces with little between you and the harsh surface can leave you with serious scrapes, cuts, and bruises. These wounds can be deep and leave permanent damage.
Broken bones: Anytime your body comes in contact with an object or surface, you are at risk of fractures or breaks.
While helmets and protective clothing can help reduce the risk of some of these injuries, traumatic collisions with other vehicles can simply outweigh protective measures.
How Common are Motorcycle Accidents?
Across the United States, motorcycle accidents cause around 50,000 injuries every year. Nationwide, around 2,000 fatal injuries occur. Here in Georgia, the number of motorcycle accidents causing serious injury or death has increased in recent years.
According to the Georgia Governor's Office of Highway Safety, the number of motorcycle accident fatalities has increased over the past three years, and is expected to continue rising. This is despite the fact that the number of helmeted motorcyclists has increased. In 2016, there were 173 motorcycle accident fatalities, accounting for 11 percent of all traffic fatalities reported that year. The estimated number of motorcycle accident fatalities for 2018 topped 260.
What Georgia Law Says about Motorcycles
It is the responsibility of every driver to obey traffic laws and be aware of others on the roadway. Under Georgia law, there are some guidelines specific to motorcycles. These guidelines include:
Motorcycle riders are not allowed to share lanes (ride side-by-side in the same lane)
Motorcycle riders traveling at greater than 75 miles per hour will be classified as "super speeders"
Georgia law requires motorcycle riders (drivers and passengers) to wear a helmet at all times. Helmets must be compliant with the Department of Transportation standards.
Motorcycle riders must wear protective eye gear, such as goggles, a helmet visor, or have a windshield installed on the motorcycle.
An unfortunate reality is that even the most conscientious and experienced motorcycle riders are vulnerable when they share the road with cars, trucks, and big-rigs.
Motorcycle Accident Lawsuits and Compensation
If you or someone you love have been injured in a motorcycle accident caused by another driver, you may be entitled to compensation. If you can prove that your injuries were caused by negligence, the person responsible must remedy your losses. At The Embry Law Firm, we can help you sort through your accident case and determine if you qualify to file a motorcycle accident lawsuit.
If your injuries were caused by negligence, you may be able to pursue recovery for expenses, such as:
Medical bills
Lost wages
Lost earning capacity (if you are disabled in the accident)
Property damage
Pain and suffering (emotional trauma)
If a family member was killed in a motorcycle accident caused by negligence, then you may also be able to pursue compensation for funeral expenses and other damages.
To find out more about your motorcycle accident case, contact our personal injury lawyer in Douglasville to schedule a free consultation.