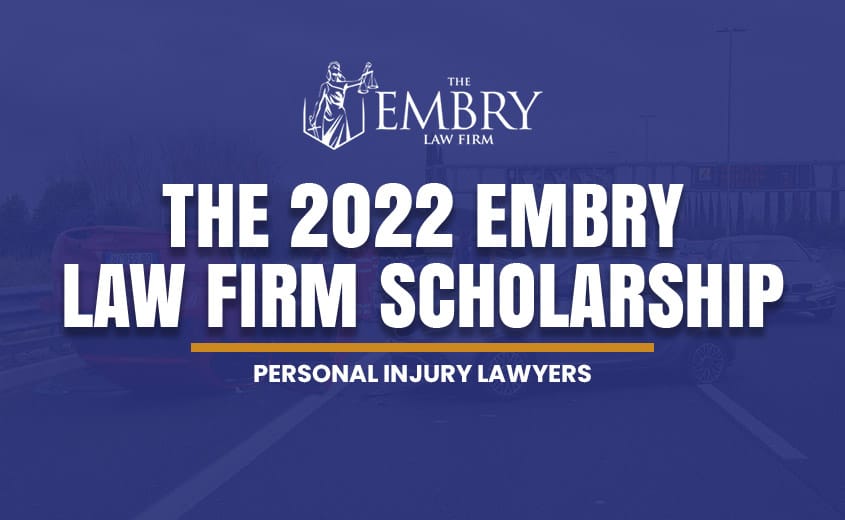 We are proud to announce our new scholarship for the 2022-2023 school year. At The Embry Law Firm, LLC, we know firsthand how education can change and enrich the lives of those who pursue it. However, we realize that education can be a financial constraint for students and their families. To assist with expenses, we're offering a scholarship opportunity in the amount of $1,500 to help a deserving student pursue their educational goals and prepare for future career aspirations.
SCHOLARSHIP REQUIREMENTS
Interested students will submit a video discussing the following: 1. Describe something you have done in the past year that has made a difference in your community. 2. Describe the solutions you would propose to improve or resolve a current issue, such as health care, the economy, discrimination, or a current topic of your choice. In addition to being creative and well-prepared, we expect the video to be a minimum of three (3) and a maximum of five (5) minutes long.
SCHOLARSHIP ELIGIBILITY
To be eligible for our scholarship contest you must be: a US resident enrolled in a graduate or undergraduate program at an accredited US college or university (two or four year). Students with full academic scholarships are not eligible to enter this contest.
Proof of enrollment must be provided. We will accept digital scans of any of the following as valid proof of enrollment (which you will need to attach to your email application):
Unofficial transcript
Official enrollment verification form
Acceptance letter on school letterhead
SCHOLARSHIP SUBMISSION & DEADLINE
We expect you to upload your video to Youtube and email the access link to scholarship@embrylawfirm.com before and no later than December 15, 2022. You will receive a confirmation email upon submission. Hold on to that confirmation email for your records. We will notify the winner by email or telephone before posting our winner on The Embry Law Firm's Facebook page.
SCHOLARSHIP AWARD
The scholarship must be applied to tuition costs or other related educational expenses. Upon determining a winner, a check will be made payable to the recipient's educational institution directly.
QUESTIONS OR COMMENTS
Questions concerning the scholarship program or the application process should be directed by email to scholarship@embrylawfirm.com.
Privacy Policy: All scholarship entries submitted to The Embry Law Firm, LLC, along with all copyright, trademark and other proprietary rights associated with the submission, become the property of www.EmbryLawFirm.com. By applying, the applicant grants The Embry Law Firm, LLC, its agents and/or representatives permission to post the applicant's name, school or university, and photo (if submitted) on www.embrylawfirm.com and/or Social Networks. This includes other marketing communications in the event he or she is awarded the scholarship. We're also granted permission to call and/or send you information regarding your application.
User Communications: When you send email communications to The Embry Law Firm, LLC, the law firm, its agents and/or representatives may retain those communications in order to process or respond to your inquiries or application as related to the scholarship. The Embry Law Firm, LLC, its agents, and representatives will not sell, share, rent or otherwise transfer your information other than in accordance with the terms set forth in this Privacy Policy.
ABOUT THE EMBRY LAW FIRM, LLC
The Embry Law Firm, LLC is a team of community-involved personal injury and adoption lawyers in Douglasville, GA. Our firm specializes in car accidents, truck accidents, wrongful death, and more. We also provide adoption and mediation services.
Our mission is to protect your interest with sincerity and integrity. We provide dedicated, thorough, and winning representation for all of our clients. We take pride in providing compassionate, professional, legal assistance in the time of your personal crisis. We will exhaustively pursue your goals and give your case the attention and expertise you and your loved ones deserve.