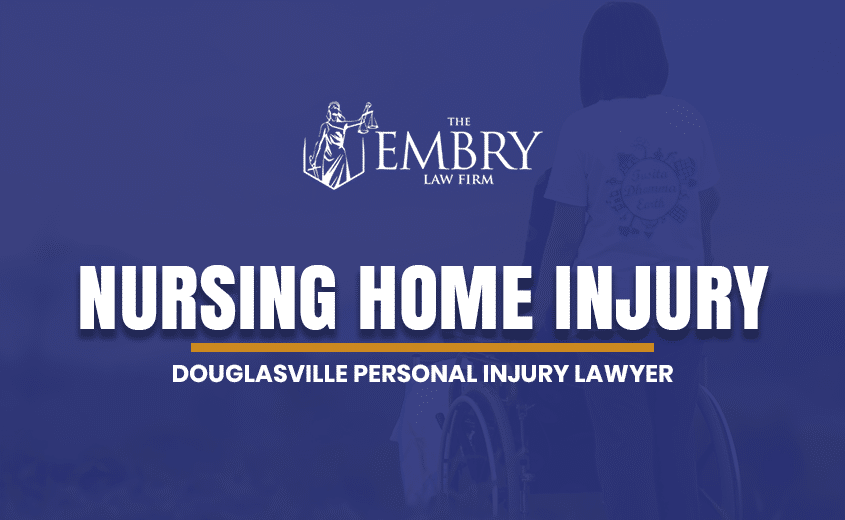 Douglasville Nursing Home Injury Lawyer
Making the decision to move a loved one into a nursing home is never easy. Every year, millions of families face this difficult decision and all the fears and concerns that go along with it. The overall goal of choosing a nursing home is to ensure that elderly loved ones get the care they need and deserve. And as much as we would all like to believe that is always the outcome, it sadly is not.
Nursing home abuse and neglect have been identified as an epidemic in the United States. It is estimated that as many as 2.1 million elderly Americans suffer some form of abuse or neglect each year. What is even more troubling is the estimate that for every one abuse case that is reported, as many as five more are not.
At The Embry Law Firm, our goal is to protect your legal rights. If you or someone you love has suffered from nursing home abuse or neglect, or you are concerned about your loved one's care, contact our Douglasville nursing home injury lawyer. Abuse and neglect take many forms, and nursing home injuries are a serious matter. We are here to help.
What Qualifies as a Nursing Home Injury?
A nursing home injury can occur for many reasons. Most, however, are the result of abuse, neglect, or other negligence. Some examples of nursing home injuries include:
Physical Abuse: Physical abuse at the hands of nursing home staff or residents is among the most common form of nursing home injury. Examples include hitting, slapping, pushing, etc.
Emotional Abuse: Emotional abuse is also a common cause of injury, though not necessarily physically apparent. Examples include intimidation, yelling, ignoring resident needs, mocking, verbal assault, humiliation, etc.
Sexual Assault: Sexual assault by nursing home residents or staff is an unfortunately common occurrence in U.S. nursing homes. Sexual assault may occur through physical contact, forcing the resident to perform acts, forcing the resident to watch pornographic materials, taking photos, inappropriate touching or language.
Neglect: Neglect can also lead to injuries, such as malnourishment, dehydration, poor hygiene, unclean environment, unsafe environment or property, inadequate supervision, inadequate medical care, medication errors, etc.
There are also other factors that may lead to a nursing home injury, including property that is unsafe or improperly secured. For example, if the nursing home facilities are not properly maintained residents could suffer from injuries due to factors like:
Slip, trip, or fall hazards
Faulty wiring
Poor lighting
Unmaintained elevators
Poorly lit stairs
Defective railings
Residents may also suffer injuries if the property is not properly secured. Unsecured facilities may encourage criminal behavior. Theft and other crimes are not unheard of in nursing homes.
What are the Signs of Nursing Home Injury?
The signs of a nursing home injury will vary depending on the cause. If your loved one slipped on torn carpet, then the signs will be different from someone injured by physical violence. Using the breakdown previously discussed, the signs of nursing home injury may include any of the following:
Signs of Physical Abuse

Unexplained cuts, bruises, burns, or scratches
Clothing that is torn or bloody
Fractured or broken bones

Signs of Emotional Abuse

Withdrawn or isolated from others
Fear of staff members or other residents
Unexpected changes in behavior

Signs of Sexual Assault

Bloody clothing or undergarments
Bruises or cuts on the genitals or breasts
Genital pain, infection, or bleeding

Signs of Neglect

Clothing or linens are soiled and not laundered
Unsanitary living conditions
Resident is malnourished or dehydrated
Medications are not monitored or administered properly
There are also easy to identify accidents that can cause injury, which may not exhibit the same symptoms as those caused by nursing home abuse or neglect. Still, it is important to investigate any injuries sustained by nursing home residents to determine the cause, and whether any action is needed.
How a Douglasville Nursing Home Injury Lawyer Can Help
If you or a loved one suffered a nursing home injury and you are concerned about abuse or neglect, there are several ways that our Douglasville nursing home injury lawyer can help. At The Embry Law Firm, we can help you:
Gather Information: We can help you gather important information related to medical expenses, witness statements, photographs, invoices, and any other relevant documents.
Initiate Legal Action: Once we are ready, we can initiate legal action, such as filing a lawsuit.
Organize and Prepare Your Case: A large portion of the legal process is "discovery". This phase of the process involves gathering evidence, interviewing witnesses and experts, and deposing both sides of the case.
Negotiate a Settlement: Around 90 percent of civil claims are settled without ever going to trial. If we can, we will negotiate a settlement that is right for you.
Take Your Case to Trial: If we are unable to reach a favorable settlement, we are prepared to take your case to trial. We will work with you every step of the way.
Resolve Your Case: No matter how your case is resolved, our goal is to get you the compensation and justice you deserve so you can put this behind you and move forward.
Navigating a nursing home injury case can be complicated, but with The Embry Law Firm, you are not alone. Contact our Douglasville personal injury lawyer to learn more about how we can help. To schedule a free consultation, call us at 844-443-6279.