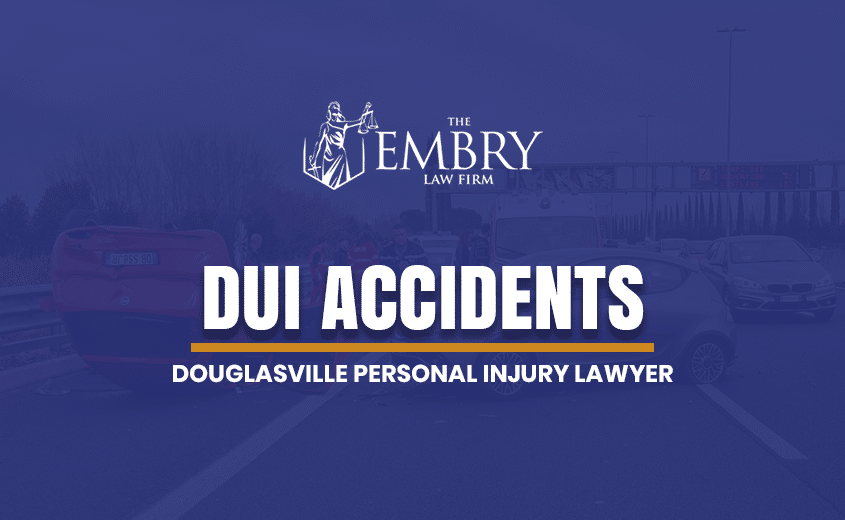 Douglasville DUI Accident Lawyer
Driving under the influence (DUI) of alcohol or drugs is crime. But did you also know that it is a breach of moral duty? When someone chooses to drive under the influence they are putting the lives of others at risk. Still, every year, thousands of people are involved in drunk driving accidents. If you or someone you love has been injured in a DUI accident, it is important to speak with a personal injury attorney as soon as possible. The person who chose to be reckless and endanger the lives of others needs to be held accountable for their actions. This person may also be liable for your expenses and losses related to the accident they caused. To find out more about your legal rights, contact the Douglasville DUI accident lawyer at The Embry Law Firm.
Understanding Drunk Driving Laws in Georgia
Georgia law defines DUI as individuals having a blood alcohol content (BAC) level of:
.08% - Individuals over 21 who are operating passenger vehicles.
.04% - Individuals operating commercial vehicles.
.02% - Anyone under age 21.
Georgia law has very strict consequences for drunk driving. There is a zero tolerance policy for drivers under the age of 21, and drivers operating commercial vehicles (buses, trucks, etc.). Anyone convicted of DUI is subject to fines, jail time, community service, and loss of their driver's license. DUI convictions are also permanently on the driver's record.
How Common are DUI Accidents on Georgia Roadways?
Despite massive nationwide efforts to combat drunk driving, DUI is still considered a factor in one out of every three traffic-related deaths. DUI accidents are a significant problem here in Georgia as well. Between 2003 and 2012, the Centers for Disease Control and Prevention (CDC) estimated that 3,699 people died in DUI accidents. That number is significant, but is nothing compared to the total number of lives impacted by these accidents. Unfortunately, even with strict laws and penalties, thousands of Georgian's choose to get behind the wheel after drinking. The result is catastrophic. In 2016, the number of fatalities related to impaired driving was up 2.7% over 2015 totaling 24% of all accident-related deaths. According to the Georgia Governor's Office of Highway Safety, that number accounts for 368 fatalities due to impaired driving in 2016 alone.
Causes and Dangers of DUI Accidents
One of the most common questions related to DUI accidents is "how are they different from any other accident?" The simple answer is that DUI accidents are often more severe due to the driver having less control over their behavior, reflexes, and morals. Drunk drivers tend to drive faster and more recklessly, and take more risks. Driver and passengers who are drunk are also less likely to wear their seat belt, which increases the danger and likelihood of severe injuries if an accident occurs. Sometimes DUI accidents are caused by someone who knew they were intoxicated but chose to drive anyway. There are also cases where the driver may not have known just how intoxicated they were until it was too late. According to a study by the University of Arizona, most people will reach legal intoxication, or a BAC of .08 after just two or four drinks over the course of an hour. What most people fail to consider is the fact that alcohol can take some time to get into your system and present signs of intoxication. A variety of factors can contribute to this "hidden danger", such as:
Height
Weight
Gender
Whether the person has eaten recently
The alcohol content of the drink
The number of drinks consumed in a short period of time
Who is Liable for DUI Accidents?
This question may seem simple enough to answer – the driver, right? In most cases, yes, the driver is considered at least partially responsible for accidents caused by his or her intoxication. However, there are actually several situations that can lead to someone other than the driver being held liable. These situations include:
The Driver: Of course, drivers are held responsible for their actions in criminal procedures, and in civil courts if applicable.
Bar or Restaurant Staff: There are DUI accident cases where a bar or restaurant staff member or owner were held liable for injuries someone suffered. This happens when an individual working at a bar or restaurant continues to serve alcohol to someone that is obviously intoxicated. These individuals have a responsibility to be aware and stop serving drinks if necessary.
Hosts/Hostesses: A host or hostess of a party (even a private party) can be held liable if one of their guests causes a DUI accident. If they are found to have provided the alcohol, then they can be considered at least partially liable. This is especially true if the person who caused the accident is underage and found to be intoxicated due to someone purchasing them alcohol.
Vehicle Owner: There is a little-known legal concept called "negligent entrustment" that can lead to a vehicle owner being held liable for an accident. For example, if someone asks to borrow your car, and you can tell that they are intoxicated but give them the keys anyway, then you may be held partially liable if they cause a DUI accident.
Getting Compensation after a DUI Accident
Not only does Georgia law take strict measures to prevent DUI, and to prosecute those who disobey the law, it also provides measures for victims to recover from a tragic situation. Victims of DUI accidents caused by someone else are permitted to file a personal injury or wrongful death lawsuit against any party whose negligence contribute to the accident and resulting injuries. By filing a personal injury lawsuit, victims and their loved ones can pursue financial compensation for their losses, including:
Medical expenses
Lost wages
Lost earning capacity
Property damage
Pain and suffering
Funeral expenses if a death occurs
Victims and their loved ones can also pursue punitive damages, which are designed to punish the person responsible and deter them (and others) from committing similar acts.
Contact our Douglasville DUI Accident Lawyer
If you or someone you love has been injured in a DUI accident, contact our
personal injury lawyer in Douglasville, GA
to learn more about your legal rights, and your legal options. Call us at 844-443-6279, or
complete the form
on our website.