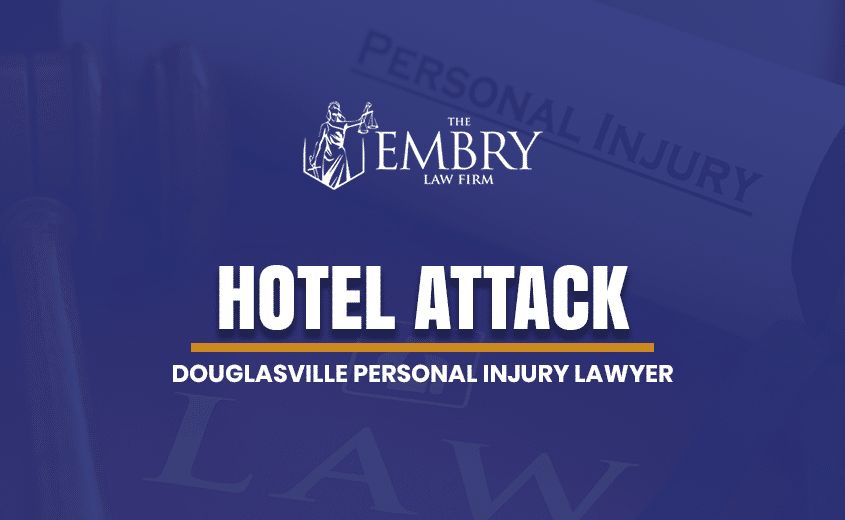 Douglasville Hotel Attack Lawyer
When you book a hotel room, you expect that the property will be safe for you as a visitor. After all, the entire point of a hotel is being a safe and welcome place for visitors to stay. Unfortunately, a reality is that crime can happen anywhere, even in environments that ordinarily would seem safe. That includes hotels.
In Metro Atlanta, there are hundreds of hotels offering a wide array of services and amenities. These hotels draw in thousands of guests every year. Sometimes, they also draw in criminals who believe that travelers will have cash, electronics, and personal items easily accessible. Criminals looking for easy-to-steal items or cash may also engage in other criminal behavior, such as assault.
While none of us want to believe that we could be attacked at a hotel, the reality is that these crimes do happen, and the results are devastating. At The Embry Law Firm, we offer legal guidance to victims of hotel attacks. If you have been assaulted while at a Metro Atlanta hotel, we can help you protect your legal rights and get the compensation you deserve.
Hotel Attacks and Property Owner Responsibilities
Property owners have a responsibility to ensure that their property is safe. That includes ensuring that the physical elements of the property are properly maintained and safe, but also that the property is secure. When a hotel is poorly maintained, lacks security, or is improperly managed, the property can become desirable to criminals. Some examples of poorly maintained or insecure hotel properties include:
Poorly lit parking areas
Dimly lit entrances or stairwells
No security staff to monitor the property
No security cameras installed
Inadequate door locks on hotel room doors
Hotel staff improperly trained to be aware
No gated entryway (including exterior or pool entryways)
Staff allows visitors who are not guests to be on the property or enter rooms
Prostitution or drug activities are allowed on the property
Adequate Security and Foreseeability
Another responsibility of property owners is awareness. Hotel owners who have experienced crime on their property, or close by, should take measures to ensure their guests are safe. If crime has occurred at a hotel, but the property owner does not increase security measures, then he or she may be neglecting their duty. This is called foreseeability. If the property owner should have foreseen a danger, or was aware of a danger but did nothing to prevent accidents or crime, then he or she may be held liable for any injuries sustained.
How to Protect Your Legal Rights and Get Justice
Of course, if you are the victim of any sort of physical attack – assault, battery, sexual assault, rape – you want justice. You want to see the person responsible be arrested, prosecuted, and punished according to the law. These are all elements of the criminal process. And while the criminal process moves forward, you may also have legal rights under the civil process.
If you were attacked at a hotel, and you can establish that your injuries were caused by negligence – such as the actions discussed above – then you may be able to file a premises liability lawsuit against the property owner or operator. A premises liability claim could compensate you for damages and losses, such as:
Medical expenses
Lost income
Ongoing rehabilitation, therapy, or medical care
Psychological trauma
Pain and suffering
You may also be able to pursue punitive damages, which is an additional form of punishment for the person responsible. Punitive damages are designed to deter the individual from making the same mistakes, acts, or omissions again. The type of damages you can pursue and the total amount will depend on the facts of your case.
Getting the Legal Guidance You Need
After a violent attack, your world is turned upside down. You are now in the midst of criminal procedures and are dealing with the psychological effects of what you have been through. The last thing you need to worry about is how you will pay for your medical care or lost income. That is why you need to contact a hotel attack lawyer who can help you build a strong case and get you the compensation you deserve.
At The Embry Law Firm, we know that no amount of money will erase what happened. But we also know that financial stability is an important part of healing and moving forward with your life. Our goal is to ensure that your legal rights are protected throughout the legal process. No matter what direction your case proceeds, we will be there with you every step of the way.
To learn more, contact our personal injury lawyer by calling 844-443-6279. We offer every client a free consultation.