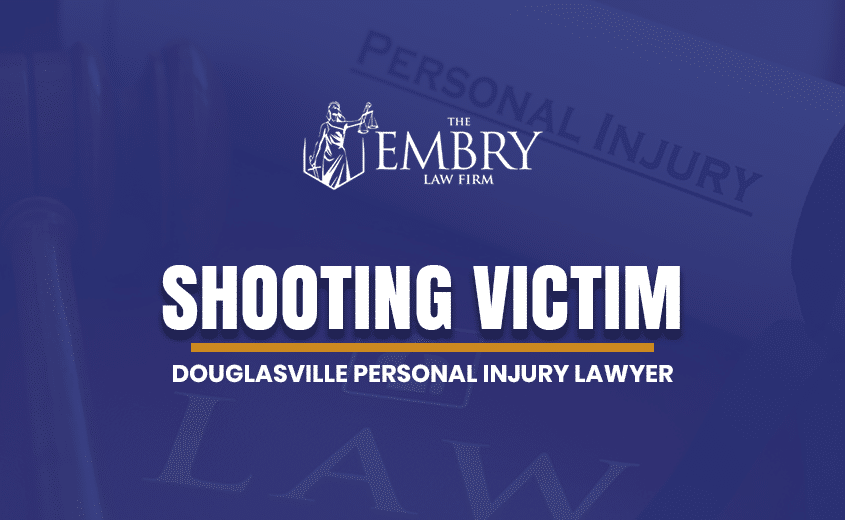 Douglasville Shooting Victim Lawyer
Guns are a hot topic in the media and among citizens all over the United States. Here in Georgia, gun laws have become an increasingly common topic. Largely because the laws are fairly basic in terms of who is legally allowed to purchase a gun. Currently, anyone over age 21 who passes a background check can purchase a gun in Georgia. Meeting this basic requirement is not difficult, even for some people who have participated in crime in the past. This basic standard also does not consider factors related to responsibility, mental capacity, or intent. No matter how you feel about gun control laws, the fact is that most shootings are the result of criminal or negligent acts. These shootings often could have been prevented had proper measures been taken to ensure safety and security. None of us want to consider that we could be injured in a shooting, but in Metro Atlanta, shootings occur frequently and in many cases, the person injured is an innocent bystander. The most common types of shooting incidents in Metro Atlanta include:
Violent Crime Shootings
Stand Your Ground Law Shootings
Police Shootings
Accidental Shootings
At The Embry Law Firm, we represent shooting victims throughout Metro Atlanta. Our Douglasville shooting victim lawyer understands that there are many reasons why shootings happen, and is determined to get to the bottom of your case. We want to help shooting victims understand and protect their legal rights, including holding those responsible for their injuries accountable.
Georgia Shooting Information
Georgia has one of the worst violent crime rankings among states in the Southeast. In 2015, 498 people were victims of homicides involving guns. Only four other states reported more of this type of crime. Across the nation, Georgia ranks 13 in the highest number of gun-related deaths, reporting 4.9 gun-related homicides per 100,000 citizens. Considering this information, these statistics mean that if you live in Georgia, you are twice as likely to be killed in a shooting than people living in New York.
What Georgia Law Says about Shooting Crimes
Under Georgia law, property owners have a responsibility to keep anyone entering their property legally safe. That includes protecting residents, customers, or visitors from foreseeable acts of violence. The key word here is "foreseeable". Like in the above scenario, the property owner knew that a shooting had occurred previously, but failed to increase security. As a result, someone else was injured. In such a case, the property owner may be considered negligent in his or her responsibility to protect visitors. Premises liability cases involving a shooting will often depend on the concept of foreseeability. To prove that the property owner did know, or should have known, about the danger you need the help of a lawyer who has managed this type of case before. Proving that a property owner was negligent often depends on a thorough investigation into your case, including interviewing witnesses, gathering evidence, and working with law enforcement.
Shooting Incidents and Personal Injury Law
Shootings are an area of personal injury law that may fall under premises liability. A majority of shooting incidents in Metro Atlanta occur in areas where there is a history of criminal activity. Whether the person who pulled the trigger is arrested or not, shooting victims may have grounds to file a personal injury lawsuit against the owner of the property where the shooting occurred. Consider this scenario. You are visiting a friend who lives in an apartment complex. The area is poorly lit, and there aren't any security guards patrolling the area. While walking to your car, you are shot and injured. What you didn't know at the time of your visit was that just two weeks earlier someone else was shot in the same parking lot. Even though someone was injured, the apartment complex owner did not fix the lighting problem or increase security on the property. In a situation like this, you may be able to file a personal injury lawsuit against the property owner. He or she knew, or should have known, that the area had previously been used for criminal activity but no measures were taken to improve safety and security. Further, no warnings were issued to visitors of the potential danger of the darkened parking lot or a suspect in the area.
Get Help With Your Shooting Case
If you live in Metro Atlanta and have suffered a gunshot injury during a shooting, it is important to get legal help right away. Of course, you want to make sure the person responsible is held accountable in criminal courts, but you should also consider your legal rights and possible civil legal action. At The Embry Law Firm, we have helped shooting victims and their loved ones file personal injury and wrongful death claims. Successful civil claims can help ensure that get compensation for your medical expenses, lost wages, and pain and suffering resulting from your injuries. To find out more about civil claims and your legal options, contact our
Douglasville personal injury lawyers
 to schedule a free consultation. Call us at 844-443-6279.