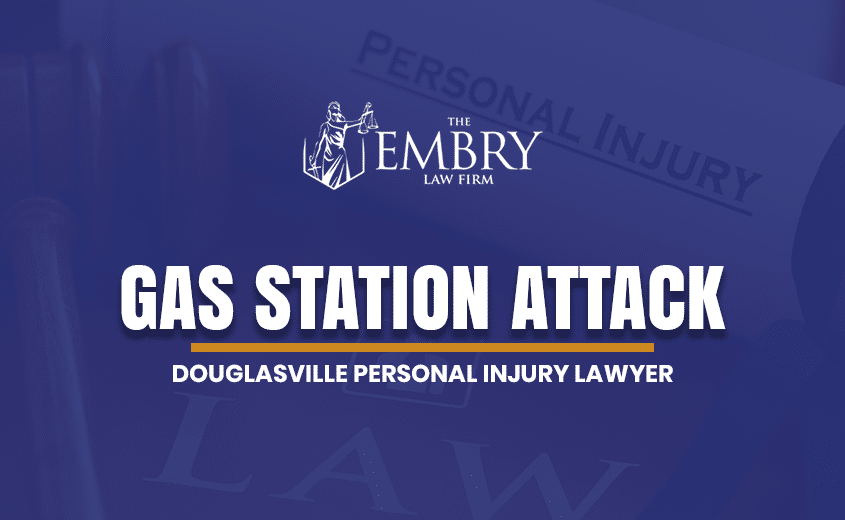 Douglasville Gas Station Attack Lawyer
Across the United States, there are more than 11,000 gas stations and 122,000 convenience stores. These locations are a necessity for any of the millions of people operating motor vehicles on U.S. roadways. Unfortunately, these locations can also be a prime location for devious behavior and criminal acts.
During 2018, there were numerous reports of gas station attacks in Metro Atlanta. These attacks ranged from domestic violence to carjacking, robbery to cold-blooded murder. Victims of gas station attacks have a difficult journey ahead as they heal physically and psychologically. At The Embry Law Firm, our Douglasville gas station attack lawyer is here to help victims protect their legal rights and get the compensation they deserve.
Whether you were attacked by someone you know, a complete stranger, or a gas station employee, The Embry Law Firm can help.
Why are Gas Station Attacks so Common?
Gas stations are sometimes called "crime magnets". There are a few primary reasons why gas stations may be prone to criminal acts. These reasons include:
Gas stations and convenience stores are often open late or all night.
Gas stations are often located along lonely stretches of road.
Gas stations and convenience stores notoriously have little or no security on the premises.
Getting gas requires patrons to get out of their cars.
While pumping gas, patrons are in a tight area between the pump and the vehicle.
When paying, patrons may leave their car unlocked to see the attendant or enter the store.
Many people use their cell phones while pumping gas, or when paying for gas. This distraction can increase the risk of attack.
There are, of course, numerous variables to why any crime is more or less common than others. In the case of gas station attacks, there are several definite risks that patrons should be aware of.
Who is Responsible for Gas Station Attacks?
The Official Code of Georgia (O.C.G.A.) states that property owners have a duty of care to ensure that their property is safe for customers (O.C.G.A. 51-3-1). If a gas station owner knew about a danger, or should have foreseen a dangerous situation, he or she may be held liable for any attacks or injuries that occur on the property.
While we cannot predict the actions of others, many gas station owners or operators are fully aware of the dangers on their properties. How property owners respond to such dangers has a profound impact on foreseeability of future crimes occurring. Some examples of how property owners may be able to foresee dangers include:
Previous crimes at the gas station or in the vicinity
Overall crime rate in the vicinity
Known lack of security or a failure to ensure that adequate security measures are in place.

Broken fence, gate, or windows
Inadequate lighting
Improperly maintained pumps and pump areas
Failure to have security cameras installed and recording
Failure to have security staff on the premises if needed

Comparison to how other gas stations in the area secure their premises.
Property owners who are unsure of how to gauge crime rates in the area can always contact their local sheriff or police department to find out.
What to do After a Gas Station Attack
After a gas station attack, you are likely frightened, nervous, and anxious for how your case will turn out. Remember that gas stations are regulated by state and federal laws, and the person who attacked you will be subject to the criminal process. He or she may also be held liable through civil claims like a personal injury lawsuit.
In addition to the person who attacked you, the gas station owner or operator may also be held liable through civil claims. If the property owner breached his or her duty of care to you as a customer by failing to keep the property safe, then you may be able to sue that individual. This is where premises liability claims enter the picture. In Georgia, anyone who is injured due to the negligence of a property owner is able to file a premises liability lawsuit in an attempt to recover financially.
A premises liability lawsuit could help you recover financial losses, such as:
Medical expenses
Lost wages
Pain and suffering
Emotional trauma
Wrongful death or funeral expenses if you are filing on behalf of a deceased loved one
These lawsuits help ensure that you are compensated for your losses, but also help hold responsible parties accountable for their actions or lack thereof. This is important for you, but also for the community at large, as deterring future negligent behavior could save lives.
Contact Our Douglasville Gas Station Attack Lawyer
If you or someone you love has been attacked at a Metro Atlanta gas station or convenience store, contact our Douglasville personal injury lawyer at The Embry Law Firm to learn more about your legal rights. We can help you determine if you have a personal injury or premises liability case, and if so, what your best options are to get the compensation you deserve. Schedule your free consultation by calling 844-443-6279, or by using our contact form on our website.