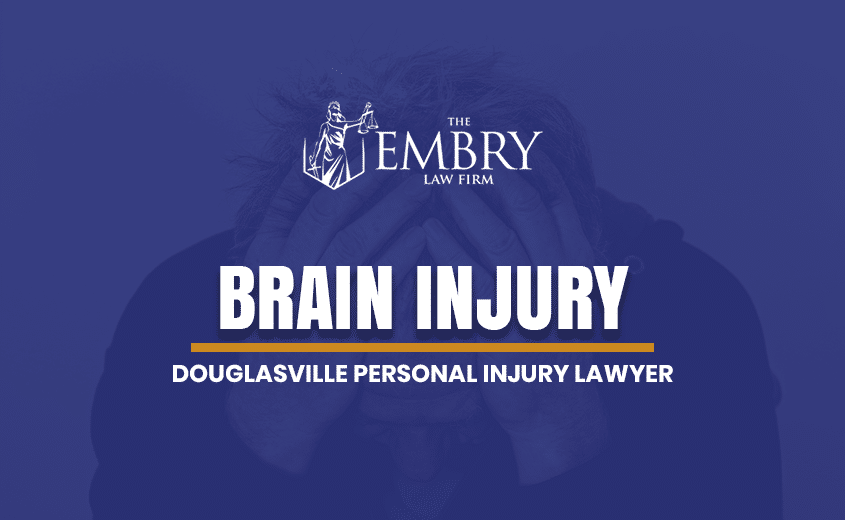 Douglasville Brain Injury Lawyer
Brain injuries – even those that seem "minor" or "mild" – can have devastating or even life-altering consequences. Your brain is one of the most important parts of your body. When your brain is injured, your body, mental state, and even your personality can be affected. These injuries no doubt have a tremendous impact on you and your loved ones.
If you have suffered a brain injury that was caused by someone else, it is important that you contact a personal injury attorney to explore your legal rights. If someone else's negligence caused you harm, then that party is liable for the damages caused. The Embry Law Firm can help you determine if a personal injury claim could be the right option to recover damages and get the compensation you deserve.
Understanding Brain Injuries
Brain injuries can be caused by a variety of accidents and injuries. Some of the most common causes of brain injuries include:
Car accidents
Motorcycle accidents
Truck accidents
Construction site accidents
Medical malpractice
Slip and fall accidents
Any sort of trauma to your head can cause injury to the skull or brain. That includes blunt force trauma from a fall or striking your head on an object. It also includes rapid movement, which can cause your brain to "slosh" inside your skull. The cause of a brain injury can definitely impact the severity and how treatment is managed. It can also impact your symptoms. Some of the most common symptoms associated with brain injuries include:
Headache
Depression
Mood swings
Nausea or vomiting
Loss of feeling in the limbs
Loss of mobility in the limbs
Insomnia
Difficulty balancing
Sensitivity to light or sound
Blurred vision
Fatigue
The Real Cost of Brain Injuries
At The Embry Law Firm, we understand that a brain injury has consequences far beyond a physical ailment. When you are injured, you face challenges with your day-to-day activities, which can impact your friends, coworkers, and family. Because brain injuries affect one of the most important structures in your body, it is incredibly important that you get the right treatment and ongoing care.
Many people suffering from a brain injury struggle to balance the need for care and the overwhelming cost. Some estimates suggest that the lifetime care costs for someone with a traumatic brain injury are greater than $1 million. Some of these costs may include:
Physical therapy, which may last weeks, months, or even years
Mental or psychological therapy or treatment
Prescription medication to treat symptoms
Lost wages, or loss of the ability to work as you did before the injury
Complex medical or surgical treatments
There are also incredible costs to you personally, as well as your family. These costs can be difficult to quantify. There is no insurance coverage for the emotional pain that you and your family experience due to a brain injury.
Find Out if You Have a Brain Injury Case
If you are suffering from a brain injury that was caused by someone else's negligence, recklessness, or criminal behavior, you should contact a brain injury lawyer to determine if you have a brain injury case. Under Georgia personal injury law, if you can prove that your injury was caused by someone else, you may be able to secure compensation for your losses.
If you do have a brain injury case, filing a personal injury lawsuit in pursuit of damages could help offset your costs and ensure that you and your family are financially able to get the care you need. Personal injury lawsuits seek compensation for losses including:
Past medical bills
Future medical bills
Lost wages or benefits
Non-economic losses, such as pain and suffering
If you have lost a loved one due to a brain injury, you may also be able to file a wrongful death claim, which seeks compensation for similar expenses. A wrongful death claim also may cover funeral expenses and other non-economic damages.
Our Douglasville Brain Injury Lawyer Can Help You
After any type of personal injury accident, you and your family may feel overwhelmed or at a loss of where to turn for help. It is important that you understand your situation, your legal rights, and what the law says about personal injury claims. In Georgia, you only have a certain amount of time to file a personal injury claim, which means you need to act quickly in contacting an attorney. This time limit is called the statute of limitations, which is two years from the date the injury occurred. In some cases, the statute of limitations begins at the time an injury is discovered. Once the statute of limitations ends, you will no longer be able to seek legal action for your brain injury case.
Filing a lawsuit is not an easy task, but it doesn't have to be a task that adds to the trauma and burden you are facing. By working with a knowledgeable personal injury attorney, your case can move through the legal process with relative ease. Our goal at The Embry Law Firm is to ensure that your legal rights are protected throughout the legal process, and that you have access to every resource available.
If you or someone you love has experienced a brain injury, and you want to learn more about brain injury lawsuits, or how to protect your legal rights, contact The Embry Law Firm to speak with our personal injury lawyer. To schedule your free consultation, call us at 844-443-6279, or fill out our online contact form.