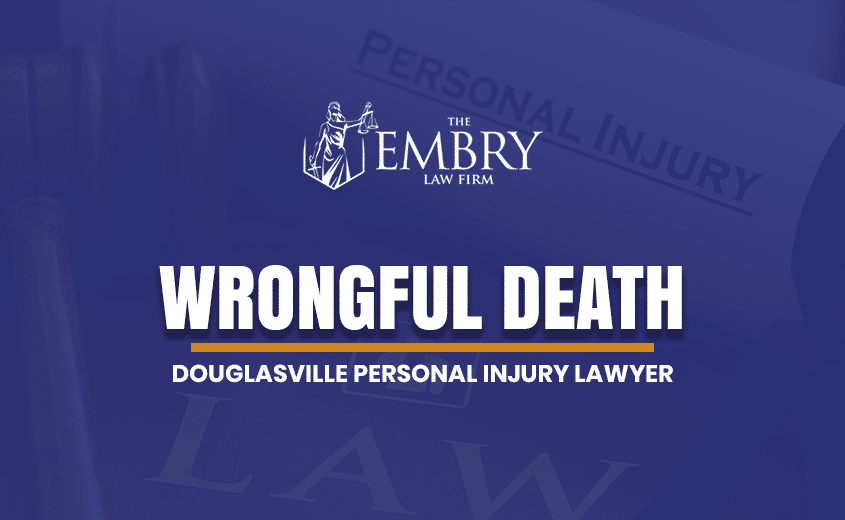 Douglasville Wrongful Death Lawyer
Losing someone you love is devastating no matter what the cause. But when your loss is due to someone else being reckless, negligent, or behaving criminally the results can mount to overwhelming levels. In such cases, the unexpected loss of a loved one can cause tremendous emotional and financial devastation.
At The Embry Law Firm, our Douglasville wrongful death lawyer understands how difficult the loss of a loved one can be. Our firm offers the support, experience, and resources that you need to understand and protect your legal rights, and hold accountable the person responsible for your loved one's death. There is no real compensation for the tragic and untimely loss of someone you love, but our goal is to help you get justice for your loved one, and get the compensation that you deserve to move forward in stability.
What Qualifies as a Wrongful Death?
A wrongful death is any death occurring as a result of someone else's actions – recklessness, negligence, or criminal behavior. A wrongful death can also be related to someone's failure to act. Some of the most common situations that lead to a wrongful death include:
Car Accidents
Truck Accidents
Motorcycle Accidents
Medical Malpractice
Nursing Home Abuse
Defective Medical Devices
Dog Bites
Burn Injuries
Assault
This list is hardly exhaustive, and also within each of these categories there are many variables, actions, and inactions that could result in a wrongful death.
What is a Wrongful Death Claim, and Who Can File One?
Under Georgia law, if someone you love was killed due to the negligence of another party then you have the ability to file a wrongful death claim on his or her behalf. The law allows for the deceased person's spouse, parents, or children to file a wrongful death claim. In certain situations, other parties may be able to file a claim, but these cases are unusual.
A wrongful death claim is a lawsuit filed in court. This claim allows you, the plaintiff, to detail the facts of your case and pursue compensation for the damages (losses) you have suffered as a result of the other party's (defendant) actions or inactions. Examples of the damages often pursued in wrongful death claims include:
Medical expenses
Funeral expenses
Lost wages
Lost anticipated future income by surviving family
Pain and suffering prior to death (physical and emotional)
Loss of consortium (companionship, partnership, etc. by surviving spouse)
Loss of enjoyment of life by surviving family members
In some cases, you may also be able to pursue punitive damages, which focus on holding the responsible party accountable for intentional acts or extreme recklessness. Punitive damages can be sought when there is provable pain and suffering that occurred prior to death.
The best way to determine the damages suffered, and what damages you can pursue in a wrongful death claim is to work with an attorney who knows how the legal process works. The Embry Law Firm can help sort through your case and determine the best options to maximize recovery and get the justice you deserve.
Important Things to Note about Wrongful Death Claims
Like any legal process, there are a few important things you should note about the wrongful death claim process. These include:
Burden of Proof: It is up to you (and your legal team) to prove that the other party was negligent, and that his or her negligence caused the injuries and death of your loved one. To do this, you must prove the following:

That the defendant showed the deceased a duty of care in the situation
That the defendant breached this duty via action or inaction
That the breach directly resulted in death
That the death was not caused by anything else (for example, someone is in an auto accident, but the cause of death was a heart attack, then a wrongful death claim against the other driver may not be feasible).

Statute of Limitations: Georgia law has what is known as a statute of limitations for filing a wrongful death claim. That is essentially a deadline, after which you cannot take legal action. The statute of limitations for wrongful death claims is two years from the date of the incident, or the date of death depending on your case.
The Tortfeasor: The technical legal term for someone who can be sued is the tortfeasor. In wrongful death claims, this may be another individual, a doctor or nurse, a hospital or nursing home, a product manufacturer, or other party.
The legal process may be similar for all cases, but every case is as unique as the parties represented, which is why it is so important to contact a wrongful death claims lawyer as soon as possible.
A Douglasville Wrongful Death Lawyer Can Help
If you have lost a loved one due to the negligence or recklessness of someone else, contact The Embry Law Firm today to speak with our wrongful death lawyer. Our Douglasville attorney offers compassionate legal guidance for clients facing tragic loss. Our goal is to help you protect your family and your loved one's legal rights, and get the compensation you need and deserve. Contact our office for a free consultation by calling 844-443-6279.