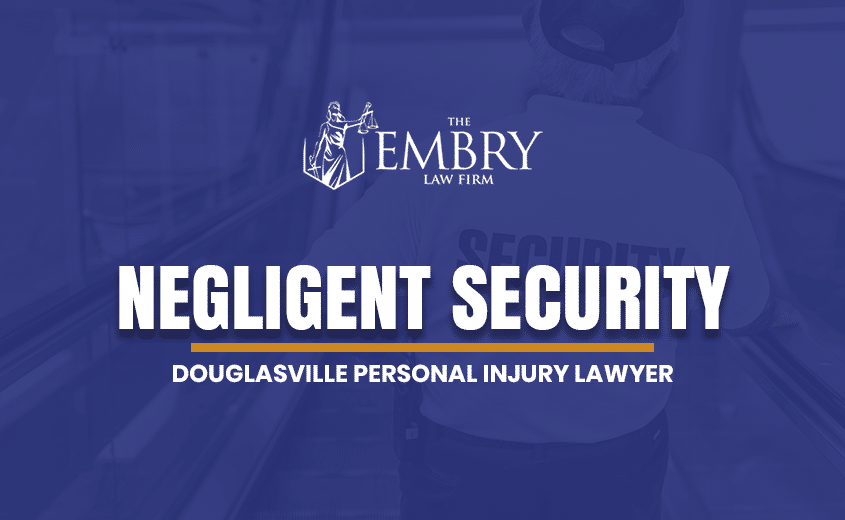 Douglasville Negligent Security Lawyer
Metro Atlanta is a thriving community that extends well outside the perimeter. As part of Metro Atlanta, Douglasville has grown a great deal in the past several years. Douglasville is a popular place to live for people who want the convenience of the interstate and nearby Atlanta, but who want to reside in a more family friendly environment. No matter where you go in Metro Atlanta, you will find a variety of apartment complexes, shopping malls, public transportation, and entertainment venues. The people who own these properties are responsible for ensuring that they are clean, safe, and properly secured. When properties are not properly cared for, maintained, or secured, visitors are placed at risk. At The Embry Law Firm, we help clients who have been injured on someone else's property due to negligent security. We understand the importance of having proper security measures in place, including security guards, cameras, gates, or sign-in procedures. Some examples of the types of property that should have security in place to protect customers or visitors include:
Hotels
Apartment complexes
Parking garages
Shopping malls
Movie theaters
Georgia Premises Liability Laws
Georgia law requires property owners to keep their properties safe. That means that property owners have a duty to ensure that customers and visitors are safe from hazards and foreseeable criminal activities. When property owners have lax or nonexistent security, visitors can be put at risk. It would be naïve to think that everywhere you go in Metro Atlanta is safe. Anyone who watches the news, reads the newspaper, or browses social media has seen reports of crime at apartment complexes, on the street, or outside a restaurant or bar. While property owners and managers may not be able to manage the actions of others, they are required to take steps to ensure that their properties are properly maintained, that there is adequate security in place, and that they warn visitors of any possible dangers. It is especially important for property owners and property managers in areas where crime rates are high to ensure that their properties are secured. Property owners or managers who know that crime is high, or are aware that crime has occurred on the property previously have an even greater duty to correct problems, warn visitors, and implement property security measures.
Premises Liability and Negligent Security
Many people who are injured while at a public place have no idea that they may be entitled to compensation under premises liability laws. Like other personal injury laws, premises liability laws protect people who are injured as a result of someone else's negligence. Consider the following examples of how negligent security could result in a premises liability claim:
An apartment complex has experienced several violent crimes onsite, but the apartment owner or manager fails to take measures to deter crime or add security. If you are attacked, robbed, or sexually assaulted on this property, you may be entitled to compensation.
A hospital fails to provide proper security for patients who have criminal records, or who are in the custody of law enforcement. If that patient harms someone working at the hospital or another patient, then the victim may be able to take civil action under premises liability laws.
A shopping mall fails to replace lights in the parking lot, even though customers have complained about someone lurking around or approaching them. If you are attacked, robbed, or sexually assaulted, then you may be able to sue the property owner for failing to maintain a safe environment.
These are just a few examples of the kind of situation that may lead to a premises liability claim. Anyone who has experienced an accident or injury due to property owner or manager negligence, or an unsafe property should contact an attorney to learn more about whether they have a case.
Getting Legal Help with Premises Liability
Premises liability can be a complicated area of law. Like other personal injury matters, it is up to the victim to prove that negligence occurred. To do this, you will have to prove the following:
That you were legally on the property when the incident occurred.
That the property owner or manager owed a duty of care to you
That the property owner or manager breached that duty by failing to maintain a safe and hazard-free environment
That this breach caused you harm
That the harm you suffered resulted in damages (physical, financial, or emotional)
Premises liability cases often involve more than one defendant, which complicates the process of establishing liability and allocating damages. The concept of negligent security is also one that the court must decide how to apply various laws to. In short, premises liability cases related to negligent security are very unique. Every case is different, and will be handled accordingly. Because of these complexities and the uniqueness of these cases, it is important that you choose an attorney who is knowledgeable in state laws and has experience managing premises liability cases. At The Embry Law Firm, we have that knowledge and the skills you need to build a strong case and get the best results possible. To schedule a free consultation with our
Douglasville personal injury lawyer
, call us at 844-443-6279, or fill out our
online contact form
.