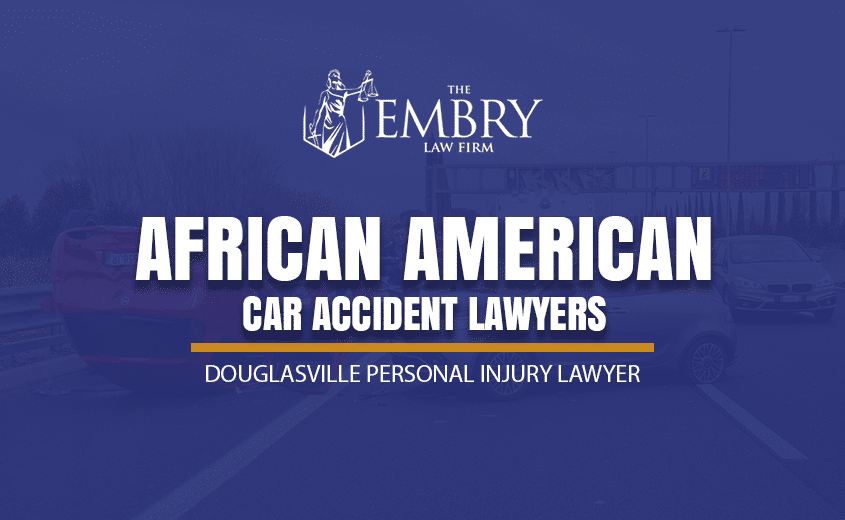 African-American Car Accident Lawyer Serving Atlanta, Georgia
Numerous car accidents occur every day on Georgia roadways. Many of these accidents result in innocent lives being changed forever. If you have been injured in a car accident, you may be struggling with medical bills, losing time at work, and property damage. You may feel like there is nowhere to turn.
The Embry Law Firm is here to help. With the help of a Black car accident lawyer in Atlanta, you don't have to fight alone. Contact The Embry Law Firm for a free consultation of your car accident case.
The Embry Law Firm is a Black-owned, woman-owned law firm serving Atlanta and surrounding areas. Let us put our experience helping car accident victims to work for your case!
Types of Car Accident Case We Handle
At The Embry Law Firm, we have experience handling car accident cases across Georgia. We have obtained recovery for clients involved in numerous types of car accidents, including those involving:
Single Vehicle Accidents
Multiple-Vehicle Accidents
Hit and Run Accidents
Head-On Collisions
Distracted Driving
Driving Under the Influence (DUI)
Commercial Vehicle Accidents
Uber/Lyft Accidents
Motorcycle Accidents
Pedestrian Accidents
Uninsured or Underinsured Motorist Claims
No matter what type of car accident you were involved in, we can help you sort through the facts of your situation and determine the best options for getting the compensation you need and deserve.
How a Car Accident Lawyer Can Help
After a car accident, you have a lot of pressure on you. You may be negotiating with insurance companies or may be overwhelmed at how expensive your medical care is. Our African-American car accident lawyers can help. Our goal is to make sure that your rights are protected and that you have the opportunity to pursue justice for injuries caused by someone else's negligence.
We build your case and prove your claims by doing the following:
Determine who is at fault for the accident. We carefully review contributing factors that may have caused your accident, such as distracted driving, drunk driving, or road rage.
Analyze the insurance company's settlement offer to determine if it is adequate for your injuries and financial losses.
Gather medical records and invoices, and speak with medical experts, to identify the real cost of your current bills and future care.
Analyze your income and ability to continue earning income to make sure that you are compensated for lost wages or earning capacity.
Calculate your property damage or loss. Often, the vehicle is not the only property damaged or destroyed in a car accident.
Help you get mental healthcare for any pain and suffering you are experiencing. Car accidents are traumatic, and you deserve compensation for mental and emotional injuries as well.
Don't Wait to Get the Help You Need
If you are suffering from the aftermath of a car accident, it is important to get the help you need as soon as possible. In Georgia, there is a statute of limitations for filing a car accident claim. That means, you only have a certain amount of time to file a claim before you cannot do so. For most car accident claims, that statute of limitations is two years from the date of the accident.
It is important that your claim is filed within the statute of limitations and that all documents and processes are completed properly. Otherwise, the court may dismiss your case without you having the chance to fight for your rights.
Get Us Free Consultation
At The Embry Law Firm, we understand the unique issues that people of color come up against. We are here to help you understand and protect your legal rights. Get a free consultation with our African-American car accident attorney by contacting us today. There is no obligation to learn more and find out your best options for car accident recovery.