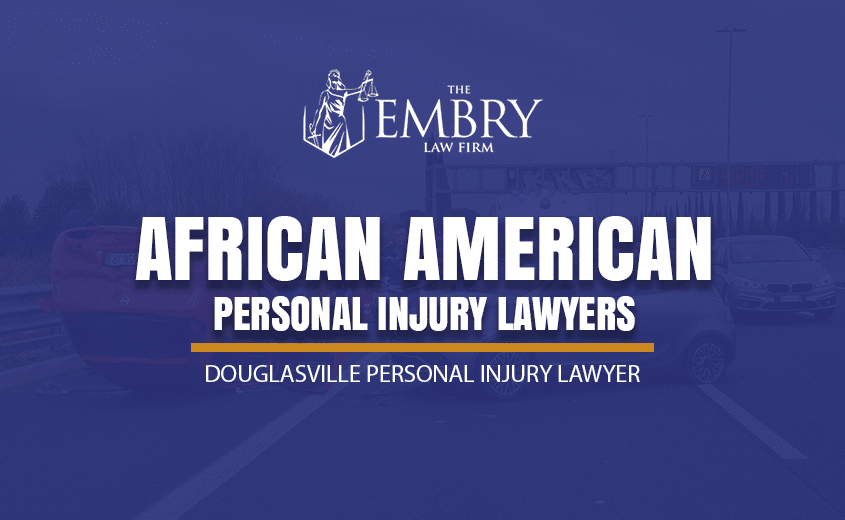 African-American Personal Injury Lawyer in Atlanta, Georgia
Have you been injured in an accident caused by someone else's negligence or carelessness? You have rights and may have the ability to pursue compensation under Georgia's personal injury laws. The Embry Law Firm is here to help.
As a Black law firm, The Embry Law Firm understands the unique issues that are keeping many clients from getting the legal help they need. We are here to overcome those barriers and ensure that every personal injury victim has access to adequate legal representation. Our Black personal injury lawyer in Atlanta is a driving force in helping injured clients get the justice they deserve.
Types of Personal Injury Cases We Handle
There are many types of accidents and injuries that may fall under the umbrella of personal injury. At The Embry Law Firm, we help clients with personal injury cases involving (but not limited to):
Pedestrian Accidents
Uber/Lyft Accidents
Slip and Fall Accidents
Dog Bites
Medical Malpractice
Nursing Home Abuse
Criminal Actions
These are examples of the most common types of cases that our law firm handles. No matter what type of accident or injury you have, contact us to find out how we can help.
Getting Compensation for Personal Injury Victims
The aftermath of any type of injury is painful, stressful, and can be financially devastating. However, if your injuries are the result of someone else's negligence, you can hold them accountable by filing a personal injury lawsuit against them.
A successful personal injury lawsuit can help you recover damages (compensation) for your injuries and losses. Some of the damages your case may qualify for include:
Past, current, and future medical expenses
Lost income
Loss of earning capacity
Permanent disability
Disfigurement
Pain and suffering caused by the accident
Property damage
At The Embry Law Firm, we know how to fight to get you the maximum compensation available. We work with medical and other experts to build a strong case and fight for your rights. We won't let insurance companies or other parties devalue what you have been through.
How a Personal Injury Lawyer Can Help You
There are numerous ways that a personal injury lawyer can help you protect your rights and pursue justice. A few of the most notable reasons to hire a personal injury lawyer in Atlanta include:
Investigation: We will investigate all the circumstances surrounding your injury. We will gather evidence, medical records, interview witnesses, and make sure we have all the facts.
Case Preparation: We help you gather relevant documents and evidence, file paperwork with applicable parties, and build a strong case.
Statute of Limitations: Personal injury lawsuits must be filed within two years from the date of the injury. We will make sure that your lawsuit is filed within that time limit so you are not prohibited from taking legal action.
Negotiation: We will negotiate with insurance companies and/or the at-fault party's legal team on your behalf.
Trial Preparation: Many personal injury lawsuits settle outside of court. However, we will make sure that your case is prepared for trial in the event that we cannot reach a settlement agreement.
We know that the legal process can be intimidating and complicated, and we are here for you every step of the way.
Get a Free Personal Injury Consultation
If you are facing the aftermath of a personal injury accident, don't wait to get the legal help you need. Contact The Embry Law Firm for a free consultation. There is no obligation to learn more and find out how we can help you with your case.