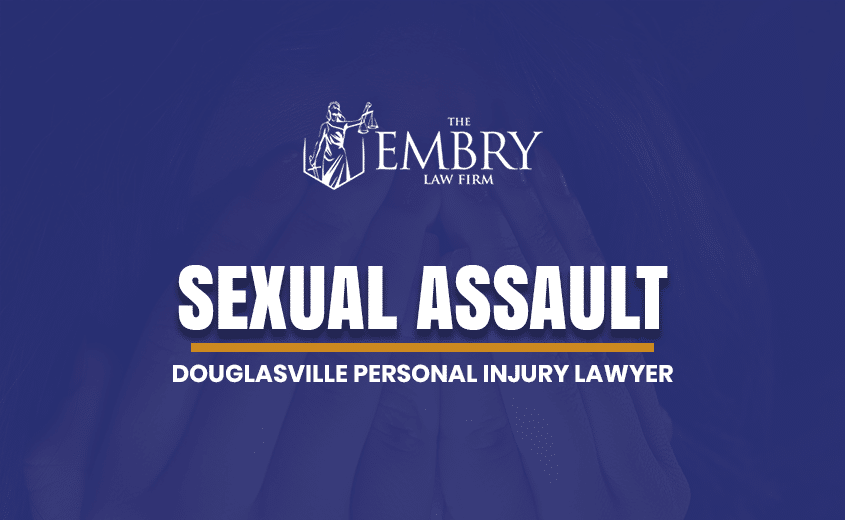 Douglasville Sexual Assault Lawyer
Sexual assault is one of the most horrifying experiences anyone can go through. Not only does sexual assault cause physical injuries, but the psychological trauma is extensive and has long-term impacts on the victim's life. Victims of sexual assault often experience a great deal of fear, shame, guilt, and depression.
It is largely because of the emotional and psychological devastation associated with sex crimes that many victims are afraid to speak up. Without getting help, victims have no way of standing up for their rights, or helping police get perpetrators off the street. At The Embry Law Firm, we understand the difficult nature of sexual assault crimes, and we want to help. Our Douglasville sexual assault lawyer is passionate about helping victims stand up and take back control of their lives.
What to Do if You Have Been Sexually Assaulted
There is no doubt that sexual assault is one of the most emotionally devastating crimes anyone can experience. Victims often experience confusion, anger, shame, and worry that they will not be believed if they come forward. Even though these emotions can seem overwhelming, it is important to push through them and get the help you need and deserve.
If you have been sexually assaulted, you should get medical attention as soon as possible. When you get medical treatment, the hospital should also collect evidence via a "rape kit". This evidence is a crucial part of identifying the perpetrator and prosecuting that person when he or she is apprehended.
Once you have been treated and released from the hospital, you should contact a sexual assault lawyer. The guidance and support of a skilled lawyer can help you feel confident as your case progresses. You are not alone. At The Embry Law Firm, we offer sexual assault victims compassion, confidentiality, and confidence that your case is in good hands. We can help navigate the legal system on your behalf so you can take time to heal. Our sexual assault lawyer will explore every option and find the legal avenues that work best for you and your family.
Sexual Assault Crimes: Criminal or Civil Matter?
Sexual assault is, first and foremost, a criminal act that, when reported, will result in criminal charges being filed against the perpetrator. Once charges are filed, your case will be handled by the state prosecutor and your case will proceed through the criminal justice system.
What many people don't realize, however, is that sexual assault can also be a civil matter. Depending on the facts of your case, you may have grounds to file a civil lawsuit against a third party. Civil suits related to sexual assault generally arise when sexual assault takes place in a location, or on a property, with a history of sexual assault or other crimes.
Property owners have a responsibility to ensure that their property is safe. That includes taking steps to avoid crime. Properties where crime has occurred should be reviewed to determine if any changes need to be made in order to prevent crime. When a property is left unsafe and crime occurs, the property owner could be held liable for any injuries sustained by the victim.
Some examples of property owner negligence related to sexual assault cases include:
Inadequate management of the property
Inadequate security
Failure to warn visitors of a known danger, or a foreseeable danger
Failure to maintain a safe environment – well lit, gates if needed, security cameras, security personnel if needed.
The goal of civil lawsuits is to get victims the compensation they deserve. Often, the damages awarded in a civil case are paid by the responsible party's insurance company. In some cases, however, damages may be awarded as a punitive measure, as well as ensuring that you get compensation for any medical or other expenses resulting from the crime.
How a Douglasville Sexual Assault Lawyer Can Help You
No one should suffer a horrible crime due to the negligence of someone else. If you are a victim of sexual assault, and you are concerned that a property owner or other party could have prevented the incident from occurring, contact The Embry Law Firm today to speak with our Douglasville sexual assault lawyer. Our firm helps sexual assault victims pursue compensation in cases related to:
Rape occurring in a parking lot with negligent security or a lack thereof
Sexual assault occurring in a public place where lighting is inadequate
Rape occurring in an apartment or hotel room due to window or door locks that are missing or malfunctioning
Sexual assault in the healthcare setting
No matter where your sexual assault occurred, it is important to contact an attorney and learn more about your legal rights, and the options you may have to seek justice and compensation.
Contact Our Douglasville Sexual Assault Lawyer to Learn More
When you work with The Embry Law Firm, you are working with a team that is passionate about protecting your legal rights. Our Douglasville lawyer is skilled in personal injury and premises liability cases, and has a deep understanding of related laws in Georgia. While your focus is on healing and moving forward after a terrifying ordeal, our team will work hard to get you the compensation you deserve.
To learn more about your legal rights, sexual assault and premises liability laws, or filing a lawsuit against a perpetrator or other party, contact The Embry Law Firm today. Call our office at 844-443-6279, or fill out our online form to schedule a free consultation.